Some of the latest Turquoise
Posted on June 30 2019
These are the latest Turquoise stones that were just finished on the cutting, shaping and polishing stages yesterday here at Portraits of Elegance Fine Arts® and Portraits of Elegance Fashion® Studio.
Some of these stones were mined 70 years ago and are just now being presented for the very first time as a finished stone.
They are Royston Turquoise, Ithaca Peak, Kingman, Bisbee, Smokey Bisbee, and the one on the very far left, I really am not sure of which mine it is from as I bought the big rough stone from a supplier who buys from around the world.  Someone else may know but the colors and type, but it is very real and unique turquoise.
This is what the original stone that I am cutting from looks like...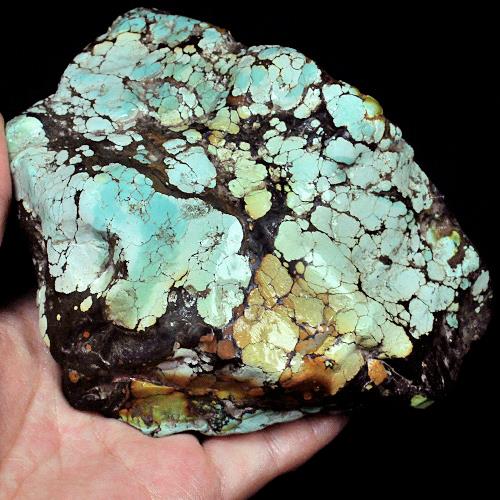 I am waiting today for the delivery of another 25 pounds of Royston Ribbon Turquoise in the rough to arrive soon for cutting, shaping and polishing.
Once my second pair of hands in the shop arrives and has time to work with the metal works, I will be making these stones available to own in the form of some very fine jewelry that is custom made, one of a kind designs.
So excited and thrilled with the grand and luxurious beauty that these Turquoise stones are becoming after sitting for the past 70 years, untouched until now and anxious for them to be available to make you the work of art when you wear them.
Till next time, I am off to the saws to finish out some more very fabulous stones that are on the way.
Till then, may you have a most wonderful day and an even more enjoyable 4th of July here in the United States,
Debora Nash
Artist / Owner of Portraits of Elegance Fine Arts® and Portraits of Elegance Fashion®